2019 Jeep Compass Arlington Irving Dallas TX
2019 Jeep Compass Arlington, Irving, Dallas TX Dealer.
Classic is the Jeep Dealership near me to get the best deals on the 2019 Jeep Compass.
$21,845!
*
2019 Jeep Compass Arlington Irving Dallas TX for Sale is the descendant of all the good vehicles can you ever think of. The recent installment is light years ahead with the addition of new power trains that are strong and durable. This automobile also boasts of front wheel and four wheels drivetrains pushing you to new levels of productivity. With the new design and capability, your routines become more interesting. Taking your child to school in your vehicle can lead to something interesting with the heated seats that keep your child warm on a cold winter day. If taking pictures is your thing, the ambience of your automobile lights up your stale picture for a barrage of likes on social media. You will never be bored again with the interactive infotainment system in your car when you ride solo. In fact, you can never ride alone with this baby because you would always want to share the joy you derive from it. That is the whole idea. And your vehicle serves you whenever and wherever.
The 2019 Jeep Compass Arlington Irving Dallas TX for Sale internal experience is nothing short of genius judging by the design of the seating space that conveniently accommodates five people rather than four arrangement common with its rivals. The spacious head and legroom dimensions give you more support and enhance your comfort. This wonderful cabin is a mobile companion in all rights. To add icing on an already scintillating cake, this vehicle boasts of a prestigious upscale and supportive materials. These components add a diamond to your crown where you really feel like the boss that you are. The supportive materials massage your back and muscles when you are out there on-road and off-road seeking fun. While at it, remember to enjoy the infotainment system and accessories placed within reach and the amazing Uconnect technology. In addition to your preferences, the interior has redesigned the GPS Navigation compartment to a bigger and larger touchscreen standard. This means that your favorite destinations are clearer and more accessible. Bluetooth connectivity and a power outlet for your smart phone and other electronic appliances mean that you do not have to worry about flat battery.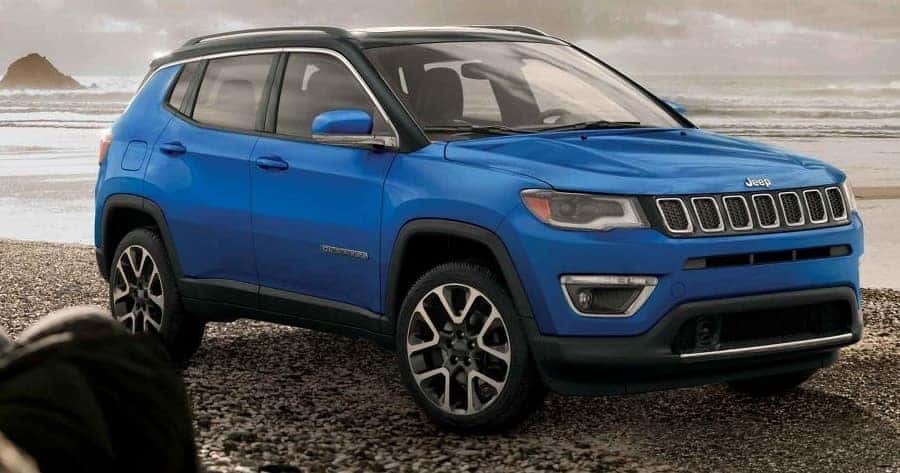 2019 Jeep Compass Arlington Irving Dallas TX for Sale is very pleasing to the eyes and while it is expected to be like that, the automobile has been re-engineered to offer you balancing, ruggedness and sophistication. The addition of the ingenious rearview camera to the exterior is a cutting edge in the automobile world. You are opportune to review your vehicle's performance and the trail you have left behind with this technology. Automatic high beams provide a sufficient charisma to your vehicle as you push forward on-road and off-road. The balancing of your automobile is further accelerated with the introduction of new power trains. This is a huge adjustment and improvement on the earlier models. The modified power trains create more room for your cruise and gives you a better handling experience. Lane departure warning system and a rear parking sensor are embossed on the exterior. This is a brilliant feature that improves your safety when you are inside your vehicle in the city and unaware of another road user trying to be careless around you. Adaptive cruise control gives you the confidence on the highway by giving your car self-dependency while in motion and the ability to take care of itself.
The 2019 Jeep Compass Arlington Irving Dallas TX for Sale boasts of one powerful engine. The engine is powered on a 2.4-liter multiair 4-cylinder beast pumping out 180 horsepower and 175 pound-feet torque. This beauty runs on a 6-speed manual shift standard for all base. It also boasts of two contemporary automatic transmission in 6-speed and 9-speed enhancements. The two automatic transmission choices are available based on the trim and especially the drivetrains (AWD or FWD). Generally, this suv is a wonderful cruiser that will push the edges of your on-road performance to incredible heights. And to think that it is also the favorite off-road cruiser among buyers is just amazing. Even, the independent Insurance Institute for Highway Safety (IIHS) rates the second-generation Compass a Top Safety Pick. You can enjoy driving your vehicle on the 6-speed automatic transmission that clocks a fuel economy value of 22 mpg in the city and 31 mpg on the highway. For the 6-speed manual transmission assessments, you have 23 mpg in the city and 32 mpg on the highway with your vehicle. Note that these numbers are EPA ratings; your personal appraisal is definitely going to be better than this. When you are throttling on the road, the suspension magnificently smoothens out bumps and holes giving you more control and handling. Your on-road and off-road desires are well taken care off with this vehicle's drive trains. Front wheel drive is standard for all trims with about two all-wheel drivetrains available for you.
The 2019 Jeep Compass Arlington Irving Dallas TX for Sale was designed having your needs in mind. Options are available in four trims namely Latitude, Limited, Trailhawk and Sport.
Sport: This sleek trim is your athletic option for on-road and off-road adventures. It complements interior amenities like five-inch touchscreen infotainment system on the middle, Bluetooth connectivity, keyless entry, power mirrors, Beats sound system and a 3.5-inch digital display screen in the instrument panel.
Latitude: Latitude trim is powered on a 6-speed automatic transmission on a front wheel drivetrain. Its counterpart, the available alternative, run on a four-wheel drive manual shift. Looking inside, it adds vinyl seats, fog lamps, a narrow17-inch alloy wheels, a leather-wrapped steering wheel and automatic headlights to its amenities rounding it up to take the crown among rivals.
Limited: When you are thinking comfort and technological components, go for the Limited trim. The front wheel drive is powered on a 6-speed automatic transmission that is very good. The all-wheel drive comes with a 9-speed automatic transmission. This trim enhances Comfort and your safety with complementary internal features like nice supportive materials, sultry leather seats, heated steering wheel, a remote start system and eight-way power front seats and infotainment technology.
Trailhawk: This trim boast of an Active drive low four-wheel drivetrains ensuring that you do not lose your charisma and focus on the road. The Select-terrain system avails you the opportunity to adapt to rough and smooth road patterns. Its off-road suspension game is as incredible as its exterior styling. Your Trailhawk is a nine-speed automatic transmission beast.
*Prices and details may change at any moment without notice. This page is for information purposes only and dealer is not responsible for any inaccuracies. See dealer for most current, up-to-date information and details.