2019 Dodge Challenger Arlington Irving Dallas TX
2019 Dodge Challenger Arlington, Irving, Dallas TX Dealer.
Classic is the Dodge Dealership near me to get the best deals on the 2019 Dodge Challenger.
$27,845!
*
2019 Dodge Challenger Arlington Irving Dallas TX for Sale has always been an unapologetic muscle car that always comes on with newer high-power models to match its more practical V-6 engines. However, the 2019 model came up with an amazing difference. Rather than the usual engines from its predecessors, we now have a newer powerful challenger that also gives us an optional package with a nice 797-hp to boss around. This model does not only get the beefy engine, it also goes on to join the lineup as a more well-structured, street and track car. What more can we say? The Dodge Challenger comes with an unmitigated swagger. It is more of a reflection as a classic and muscular car. With its wide grille sitting up front with lots of hoods sitting above it. The profile is further complemented by prominent rear haunches, as well as wheel variable sizes from 18 to 20 inches. In short, the overall look of the car is menacing, coupled with the characterized base models.
If you are looking for a better-than-good large coupe interior space, the 2019 Dodge Challenger Arlington Irving Dallas TX for Sale comes out on top in this competition. The interior space is designed with fine materials that are very well screwed together. Adorned with an astonishing and roomy first row, coupled fanciful amenities at the backseat. When it comes to the limit for comparability and quality this ride has set the bar too high for its competitors. The vehicle without a doubt adds extra points for its driver-focused interior. Options such as the R/T Scat Pack 1320, an Alcantara Appearance package for the interior are all available as standard for this year. There is a new Blacktop package with black trim within and out that nicely decorates the beauty. A new Harman Kardon sound system lights up your car like a club and gives off an extra vibe that keeps your heart pumping to continue flooring the accelerator pedal. Aside its numerous technologies this car can handle your safety very well, all thanks to the brand-new safety features.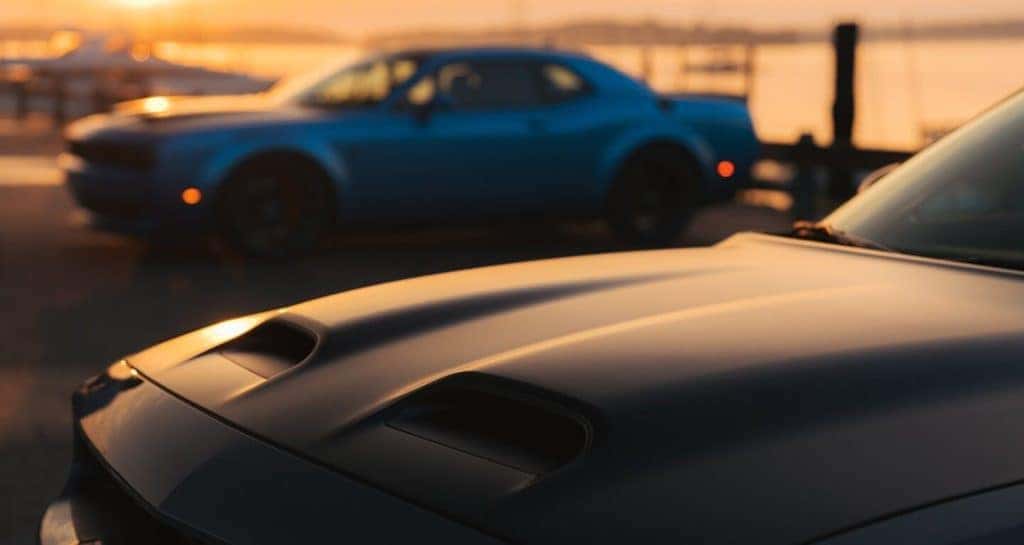 Alongside the
2019 Dodge Challenger Arlington Irving Dallas TX for Sale
wide haunches and gaping maw is an excellent low roof profile, you'd have expected less in the base trim, but then, that's another wonder of the car as its parts are well fashioned out to give it a great stance. The sleek exterior can only be described in one word; Fantastic. The auto's Widebody doesn't only put the power down better, the handling is also second to none. This car has a clear, wide space of about 2.5 inches and the tire beefier grip on pavement is designed to provide a more stable and planted attitude to complete turns, even in sharp bends. With a machine that carries a mighty hood as this, you can only expect that you'd get powerful exterior capable of hitting the streets. This year's version allows you the chance to get any form of exterior customization of your choice. It could either be racing stripes or badges, or whatever design you want to further increases the intensity of the vehicle's outlook. Without mincing words, it is evidently obvious that this design honors its iconic heritage, a blend of classic style with expansive modern muscle. From rear to the front, it gives a vivid expression of itself with its assertive design features.
The 2019 Dodge Challenger Arlington Irving Dallas TX for Sale is offers you a host of engine options. Too many and powerful that you might want to fit all into your car. Starting this like up is a 3.6-liter V6 Engine with 305 horsepower and 268-pound feet of torque, and with fuel economy values at city/highway: 19/30 mpg (RWD), 18/27 mpg (AWD). Moving on we have a 5.7-liter Hemi V8 engine with 372 horsepower and 375 horsepower for manual drive, and 400-pound feet of torque while the manual gets 410-pound feet of torque. Its fuel values are; city/highway: 16/25 mpg (automatic), 15/23 mpg (manual). The next sibling to the above engine is a 6.2-liter supercharged Hemi V8 engine sending out 717 horsepower and 656-pound feet of torque with fuel values at; city/highway: 13/22 mpg (automatic), 13/21 mpg (manual). Closing its engine options is a 6.2-liter supercharged Hemi V8 engine that breaths out 797 horsepower and 707 pounds of torque with fuel values at: city/highway: 13/22 mpg. All engines can be had with a 6-speed manual transmission while there is an 8-speed automatic as an option. From its build up and weight, it wouldn't be out of place to think that the auto would have issue taking bends, especially sharp ones. However, reverse is the case. This sport beast is laced with some track capability and every model takes on its personality depending on the suspension tuning.
2019 Dodge Challenger Arlington Irving Dallas TX for Sale comes in six trims, the primary two offering an all-wheel drive: SXT, GT, R/T, R/T Scat Pack, SRT Hellcat, and SRT Hellcat Redeye. You can as well include the Widebody model of the R/T Scat Pack and Hellcats;
SXT: Gets 18-inch wheels, a power-adjustable driver rear and 60/40 split folding rear seats, climate control, leather wrapped steering wheel, 7-inch touchscreen, two USB ports, and keyless ignition and entry.
GT: Before now, the Challenger was the only available AWD model. However, we now have more equipment, as well as a V-6 engine and a rear- or all-wheel drive.
R/T: Comes with the 375-hp 5.7-liter V-8, and optimally performing with great features and amenities. In addition, it gets a chrome fuel filler door, active sport exhaust, and a limited slip differential.
Scat Pack: Comes with a bigger brake, sharper suspension settings, 485-hp 6.4-liter V-8, launch control, a line lock, 20-inch wheels, an aluminum hood, HID headlights, SRT Performance readouts, a heated steering wheel, and an 8.4-inch infotainment system with satellite radio, as well as an Alpine 276-watt audio system.
SRT Hellcat and 797-hp SRT Hellcat Redeye: Builds off from all the equipment above and also Includes adaptive dampers, and a flat-bottom steering wheel.
– Other options include the R/T Scat Pack 1320 package, draw-out from the 2018 Demon to conclude it as a drag car, an Alcantara Appearance package for the interior, a Blacktop package, the T/A package with amenities and graphics for the R/T models, a Harman Kardon sound system, Shaker package with shaker hood scoop as well as, a Technology group with safety features and Performance Handling group.
*Prices and details may change at any moment without notice. This page is for information purposes only and dealer is not responsible for any inaccuracies. See dealer for most current, up-to-date information and details.