2019 Chrysler Pacifica Arlington Irving Dallas TX
2019 Chrysler Pacifica Arlington, Irving, Dallas TX Dealer.
Classic is the Chrysler Dealership near me to get the best deals on the 2019 Chrysler Pacifica.
$26,985!
*
If you are looking for an excellent model of the modern type of minivan, then look no further. The 2019 Chrysler Pacifica Arlington Irving Dallas TX for Sale is all you need. It is a classic minivan with enough space that will accommodate you and your family members. It comes with standard seats for a carrying capacity of seven passengers. An optional second-row bench that will increase the seating capacity to eight. It also has enough space at the back to cater for your loads. The vehicle also has a combination of a classic design with complete safety features. As a minivan, it performs excellently well. Its handling is nothing to be compared with other similar minivans. It handles far above the common minivans with strong acceleration and effective braking. When you talk about comfort when driving, you don't have anything short of that with the Chrysler Pacifica. It is full of comfort. And all the three rows have firm padding. The ride comfort is also worthy of mentioning as it does not get interrupted by small or big imperfections on the roads.
Whether you are commuting daily from one point to another or you are traveling a long journey on the highway, you will find the 2019 Chrysler Pacifica Arlington Irving Dallas TX for Sale a good companion. The interior of this minivan is a cool place you will always cherish to be. This car might look smaller than other rivals but it is spacious and classy as top leaders. The controls that are built within are very easy and intuitive to work with. The buttons which are rightly positioned are large in size and within the reach of the driver. It also has touch-screen controls for ease of use. They are well laid out with commonly used commands directly from the main screen. There is a deployment of advanced technologies within its interior. The Chrysler's Uconnect is a very easy system to use. It has simple controls and intuitive interface for users. It has an advanced 4G LTE WI-Fi, hardware components, and an additional Apple CarPlay system. Its navigation is also very easy to use. The information on the navigation system is displayed on the center of the screen for easy and full viewing.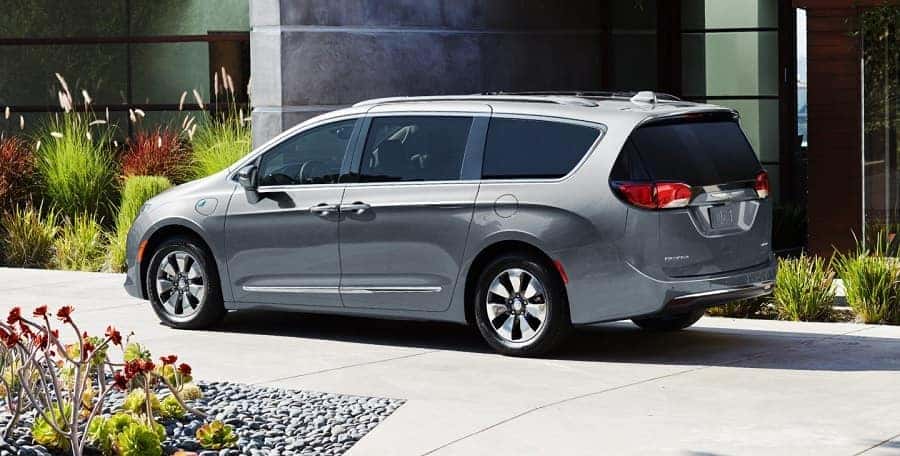 The exterior of the
2019 Chrysler Pacifica Arlington Irving Dallas TX for Sale
is one to envy. One thing that will capture your interest in this vehicle is the hands-free feature that it has. You don't need an extra hand as this minivan comes with power sliding slide doors and power lift gate that are completely hands-free. With just a little kick on a sensor the door will start opening automatically. What a beauty to behold? Every exterior feature of the latest Chrysler Pacifica was designed and engineered to make it a stylish and a topmost functional minivan that others will envy and compete with. You can brighten your world with the LED lamps that come with it. This minivan is powerfully built with 4 available LED signature lamps that run all through the day and high-density headlamps that help in brightening the road ahead for you, especially when traveling at night. The standard and safety features that this minivan comes with do not exclude the wheel. With the standard 17-inch to 20-inch wheels that are available with this vehicle, your neighbor is sure to get envious of your wonder-on-wheels. Some cars and minivans are capable of cutting you off the outside world and the beauty of nature. But certainly not this one. You and your kids will have a feel of the outside worlds. This minivan keeps you connected to nature with the availability of a tri-pane power sunroof. So, you can view colorful and beautiful skies and clouds. Your kids will surely love to travel with you on every day.
The 2019 Chrysler Pacifica Arlington Irving Dallas TX for Sale is sure to turn heads. With its stylish S-shaped design, advanced technology deployment, black accents, 18 inches to 20-inch aluminum wheel, a roof rack system and many more, you can't get a sportier experience elsewhere. It has been built to handle it all. All trims have the same engine capacity – a 3.6-liter V6 engine. It is powerful enough to produce 287 horsepower and 262 pound-feet of torque. It sends power to its front wheels through the nine-speed automatic transmission it comes with. Besides that the engine offers a nice fuel rating of 22 mpg combined (19 city/28 highway). The ease of getting in and out of this minivan is a top consideration in the minds of the manufacturer as it is very easy for the driver and passengers alike. The rear passenger doors have a large opening that makes it stress-free to get in and out, and also to load the child's seats. The driver is not left out in the scheme of comforts as this minivan gives its driver a comfortable driving position. This has been made possible with the availability of highly flexible front seats paired with a telescoping and tilting wheel. Its safety features include a surround view camera that gives the driver a 360-degree view thereby making it easy to park properly. There is also a blind spot monitoring system that alerts the driver of a vehicle that cannot be seen from the driving mirror.
2019 Chrysler Pacifica Arlington Irving Dallas TX for Sale comes in six various trim sizes – LX, L, Touring L, Touring Plus, Touring L Plus and Limited.
L trim: Brand new for this year and features the blind spot monitoring, a rearview camera, power sliding doors and satellite radio paired alongside automatic headlights, a 7-inch touchscreen, and Apple CarPlay and Android Auto.
LX trim: Climbing up to this trim adds the second-row Stow N Go seats, that will fold neatly into the floor and open up more space.
Touring Plus: This is equipped with keyless entry, satellite radio, automatic headlights, a power liftgate, and power sliding doors.
Touring L: Up the ante by incorporating power passenger seat, leather upholsteries, and heated front seats.
Touring L Plus: This go further to include two sunroofs, navigation system, a larger touchscreen and a premium audio system.
Limited: Comes with premium leather, hands free operation, and an in-vehicle vacuum.
– Options for each trim includes automatic emergency braking, and a dual touchscreen rear video entertainment system.
*Prices and details may change at any moment without notice. This page is for information purposes only and dealer is not responsible for any inaccuracies. See dealer for most current, up-to-date information and details.